Agent Profile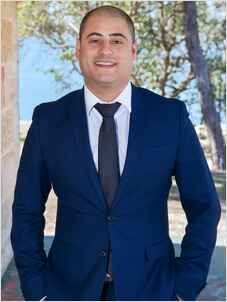 Dimitri Keramea
Laing+Simmons St George | Carss Park
| | |
| --- | --- |
| | vCard |
Dimitri Keramea
Here are some interesting facts about Dimitri:

1. How long have you been in the real estate industry and what are your specialty suburbs?
I've been in real estate for 13 years and my specialty suburbs are Hurstville Grove and the 2221 postcode.

2. Something people wouldn't know about you by looking at you is….
I love dessert after dinner. I always have dessert!

3. Number one on your bucket list is….
Travel the world with my beautiful family before the kids get too old and it's not cool to travel with dad.

4. What is your best lifetime experience and why?
Becoming a Dad for me has been the best lifetime experience that keeps on giving.

5. What would I find you doing on your day off?
Being out on the water, fishing, swimming and getting some sun.

6. What or who has had the most positive impact on your life?
For me, it has been my mum for her never-say-never and nothing-is-too-hard attitude.

7. If you could go back in time and change one thing, what would it be and why?
It would be starting a family earlier. No one knows how much joy and happiness kids bring into your life until they enter it.

8. If you were sent to prison and could only take one thing, what would it be?
A never-ending packet of Tim Tams to bribe my way through the time spent in there.

9. Something that gets right under your skin is….
When someone shakes your hand and their heart isn't in it and their hand is floppy.

10. Got any embarrassing moments you'd like to share?
I was at an open home and had a client come to the door. I asked for her contact details and then as she was entering the home I asked her when the baby was due. She turned and said that the baby was in the car and it was two weeks old. She was really fine about it, but I turned bright red. Very embarrassing!

11. What would be the theme song to your life story?
Coldplay's "A Sky Full of Stars".